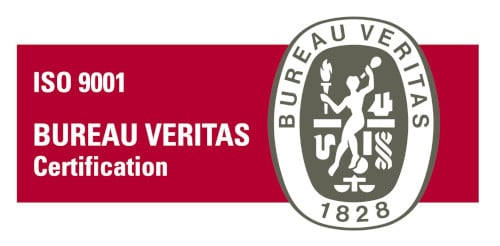 Codimar had the opportunity to share with its clients the pride for the public recognition of the commitment acquired with the continuous improvement, according to UNE EN ISO 9001: 1998, granted on November 25, 1999 by the Certification Company "Bureau Veritas Quality International". Today," Bureau Veritas ". Currently adapted to the ISO 9001: 2015 standard.
Non-compliance is a non-fulfillment of a requirement. Please, send us the following completed report so that we have proof of it.
With the aim of continuing to improve our products and services, we ask for your collaboration by completing the attached questionnaire.
Satisfaction, our reason for being
Codimar ensures the stakeholders' satisfaction
Our 8 principles in order to ensure the good quality management
Internal and external audits help us to maintain our position, at the national and international level. Not in vain, BVQi is the first Private Certification in our country and one of the leading Certification Companies worldwide, with more than 50 accrediters in 150 countries.
The ISO 9001: 2015 Standard, and Codimar, is based on the 8 principles in order to ensure the good quality management
Customer orientation: Identify and understand the current and future consumer needs and also exceed their expectations.
Leadership: Provide unity of action and direction to achieve the organizational objectives.
Staff participation: Codimar creates an environment in which the staff is fully involved to achieve the organizational objectives.
Process-based approach: To achieve the objectives, resources and activities of the company must be managed through processes, with a clear understanding of the impact of the same on the result.
Focus of the system for management: Identify, understand and manage a interrelated processes system improving the efficiency and effectiveness.
Continuous improvement: The systematization to reach higher quality levels.
Decision-making based on facts: Effective decisions are based on the logical and intuitive analysis of information and objective data.
Mutually beneficial relationships with suppliers: A good relationship between the organization and its suppliers will increase and strengthen the capacity of both organizations to create value.
The application of these "Principles of Quality Management" help us to improve the performance of our company and, by extension, that of yours.